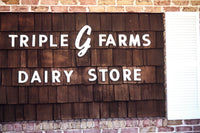 We Started as Farmers
Foxchase Golf Club opened its doors to the public on May 15, 1991. The property itself has been in the Graybill family for 5 generations, dating back to 1901. The Graybill family originally owned the property to run their dairy farm in 1924. The dairy farm expanded in 1966 with the addition of the supermarket "Triple G Farms Inc.". In 1990 it was decided the land would be converted into an 18 hole public golf course (the barns along hole 11 are original!).
The Dream
The dream to convert the farm land into a public golf course was solidified by a meet and greet with golf legend, Arnold Palmer, in 1986. In 1991, the Graybill family opened their doors to the public for golf. The blessings that God has provided in the five generations are surely not overlooked by the family. They continue to make efforts in being good stewards of the property by honoring God in the acts that they promote.
After 32+ Years of being in the golf business, we have learned that golf is much more than a sport. The game has provided a physical, emotional, mental, and social outlet. We encourage all levels to pick up the game because the positive impact it can have on your life is monumental. New friendships, outdoor lifestyles, and friendly and/or self-competition are all part of the game that we all love.

With 32+ years of owning the land and offering it as a golf course to the public, the family plans to keep it that way, for many more generations to come!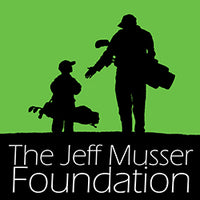 Friends of Foxchase: The Jeff Musser Foundation
The Jeff Musser Foundation is committed to financially helping families whose children are receiving cancer treatments from Penn State Hershey Medical Center, Children's Hospital of Philadelphia, or duPont Hospital for Children. Most of the families who are battling the fight against childhood cancer have gone from two incomes to one, to care for their child and use their time at doctor appointments, treatments, and often hospital stays. The Foundation eases their burden with funds to cover rent or mortgage payments, utility bills, and medical travel expenses. The foundation has given over $1 million to these courageous since 2002.
For more information, visit the Jeff Musser Foundation web site, or email them directly
Jeff Musser Foundation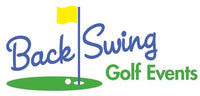 Friends of Foxchase: Back Swing Golf Events
Back Swing Golf Events is a group of lady professional golfers who create unforgettable memories on the golf course. Not only are they personable, but also they can share stories about life on tour as well as insights to their mental and physical golf skills.
Visit Back Swing Golf Events or contact McKenzie Lyng directly to learn more about their programs and how they can help with your next Corporate or Charity Golf event!
Back Swing Golf Events