New to Golf?
Golf is made for beginners. That's where we all started!
What you need to know when first starting out at FOXCHASE
Golf Equipment-What to Bring


1: Golf Clubs
Golf doesn't have to be an expensive sport. We offer a variety of golf clubs at Foxchase &
we recommend speaking with our Pro Shop staff if you are in need of golf clubs!

Whether you want a beginner set for $400 or you want to make a lifetime investment & get fitted for a set that fits you-
our Pro Shop staff can help you find the right set, best suited for your golf life.

We also provide Demo Sets for $25 if you don't have clubs to play with on the golf course.
Just need 1 club to practice with on the Driving Range? Ask the Pro Shop staff about borrowing a club.

Purchased a pair of cheap clubs on the side of the road and need New Grips? We can REGRIP your clubs for you!

See more info here on upgrading your current golf clubs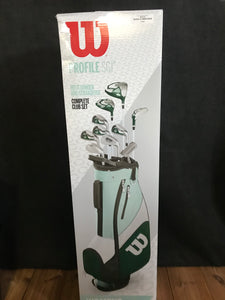 Questions about what clubs to purchase?
Email us at teetimes@foxchasegolf.com.
You can also browse our additional beginner sets below, available for purchase in the Pro Shop!

2: Golf Glove
If you are right handed, the glove goes on your Left Hand (and vice versa).
It does help to improve your grip by wearing a golf glove. But not everyone wears one.

3: Golf Balls
Golf balls can be expensive, but we have plenty of $1 "experienced golf balls" available in our Pro Shop. Make sure you bring plenty with you when you go out to play on the golf course! (you'll probably need them)
How to Become a Better Golfer
1: It Starts With Practice
Think of the Golf Swing as a HABIT. If you can get out and practice at least 1x per week, you will get better!
That's why the Driving Range is there!
But as a beginner, to truly get better, sometimes even having 1 golf lesson
with a Professional will truly help your golf swing.
Do you have the right equipment? Our instructors can also take a look at your equipment to see if the old set you purchased off the side of the road are in fact inhibiting your swing. (Yes, technology has significantly impacted the newer clubs & has made it easier to swing)
Click here for more info on our Lessons
1: If There is a Group Behind You
Make sure you are keeping up with the gruop in front of you
(you may have to pick your ball up and skip a few shots to do this). If there isn't a group to keep up with, but you're noticing the group behind you is waiting on your group for each of your shots, simply pause and wave the group behind you to play through (take cover, as they will play the hole)

2: Getting Paired up with Other Golfers
Golf is meant to be social. If the golf course is busy, you will be paired up with other golfers
if you don't have a foursome in your tee time.
Embrace getting the opportunity to meet others!
If they don't have a foursome either, they also are aware that they will most likely get paired up.
Don't want to get paired up? We recommend playing after 6pm.
3: Keeping Score
This is up to the individual. Do you have to keep score? Absoloutely not. Only if you want to!

4: Dress Code
At Foxchase, it is pretty casual.
Most golfers wear golf bottoms and a polo. Athletic clothing is also appropriate on the Driving Range.

5: Keep a Positive, Mental Attitude
That's the biggest part of golf, keeping your Mental Game strong.
To do this, stay relaxed and give yourself positve reinforcement.
We are all hooked on the game of golf because we are constantly trying to get better.
Many people are able to play up through their 70's, 80's, and even their 90's! You've got your entire life to get better.